Still time to register for Chorfest 2017 – May 19-21 in Victoria!
February 14, 2017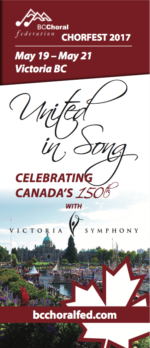 Join your voice with 200+ singers who will converge on Victoria the 2017 May long weekend!
Chorfest is the BC Choral Federation's flagship event and has been held annually each May for almost 40 years. This year's theme is a very special one for our province and country: United in Song! Celebrating Canada's 150th.
Be part of this once-in-a-lifetime opportunity to join fellow choralists from across British Columbia in performance with the fabulous Victoria Symphony.
REGISTER ONLINE TODAY! Click the choir below that applies to you:
Adult Choir (age 18+) – Jon Washburn, Clinician
Children's Choir (age 8 to 15) – Madeleine Humer, Clinician
Non-Auditioned Young Adult Choir (age 16 to 29) – Scott Leithead, Clinician
BC Youth Choir AUDITIONED (age 16 to 25) – Kathleen Allan, Conductor
The weekend of activities will include outstanding clinicians for every age group, featuring Canadian and international works representing our theme, United in Song – Celebrating Canada's 150th. There will be wonderful performance opportunities including a major concert at the UVic Farquhar Auditorium.