Young choral singers unite! Want to learn from the best clinicians in the province, meet other passionate choral musicians, and perform on a big stage? This is the place for you!
What is BC Youth Choir?
A performance by the BC Youth Choir is a rare but spectacular event! This auditioned choir (age 16-25) spends one weekend together each year at BC Choral Federation's annual Chorfest. This large choral festival happens each May, and each year singers rehearse and perform new repertoire under the direction of an amazing choral clinician.
Another great thing about BC Youth Choir is that it is organized entirely by its participants! There are many opportunities to get involved. BCYC also offers an annual conducting mentorship position.
Past clinicians include Jon Washburn, Frances Roberts, Peter Taylor, Kevin Zakresky, Debra Cairns, Heather Johnson, Adam Con and Graeme Langager.
How to join
APPLY ONLINE BEFORE APRL 28!
This year we're offering a 35% discount to schools or choirs that send a quartet of singers to BCYC. Email rsmitten85@gmail.com for details.
2017 BC Youth Choir Clinician: Kathleen Allan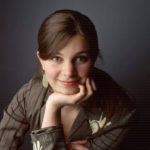 The BC Youth Choir (BCYC) at BCCF Chorfest 2017 will be working with clinician Kathleen Allan.
Conductor, composer and soprano Kathleen Allan is becoming internationally respected for her performances and compositions. She is the Director of Choral Studies and Associate Conductor of Orchestras at the Vancouver Academy of Music and Assistant Conductor with the Vancouver Bach Choir. She recently made her Asian debut conducting Handel's Messiah and Bach's Christmas Oratorio in Japan. Her compositions have been performed throughout the Americas and Europe. She is the recipient of the Ernest MacMillan Prize in Choral Conducting and was the 2016 Conducting Apprentice of the National Youth Choir of Canada. She holds a master's degree in conducting from Yale University and a degree in composition from UBC.
2017 BC Youth Choir Repertoire: (proposed and subject to change)
Come and I Will Sing You
Trad, arr. K. Allan
May The Skies Be Clear
Tobin Stokes
Beati mundo corde
William Byrd
Sonnet 43
Laura Hawley
O yo yo
Stephen Hatfield
Verleih uns Frieden gnädiglich
Felix Mendelssohn
Questions for a live person?
email: rsmitten85@gmail.com
Follow the excitement on Facebook
Audition Procedures
Follow the instruction on the online application form.
Early deadline for application: April 15, 2017