Chorfest 2018 – Adult Registration Now Open!
December 20, 2017
Chorfest 2018 returns to the Lower Mainland with an event hosted by Richmond Chorus, who brought you Chorfiesta! in 2004, and A Royal Chorfest in 2010. Adult registration is now open!
Join Your Voice with 200+ singers who will converge on Richmond for Mother's Day Weekend, May 11–13, 2018.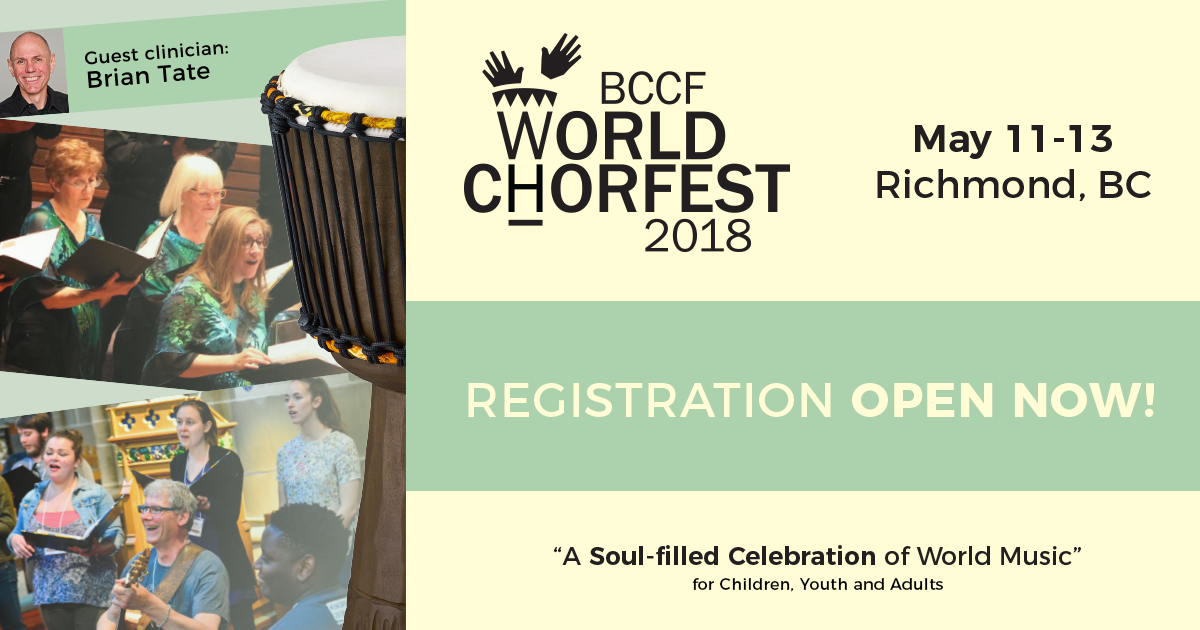 The theme of Chorfest 2018 is "World Music – A Soul-filled Celebration". We will be sharing an inspiring selection of world, gospel and soul music under the expert tutelage of renowned composer and conductor, Brian Tate.
This will be an opportunity for meaningful connections with a community of singers from across BC, culminating in a performance on Mother's Day with the Children's Choir (conducted by Sarona Mynhardt) and BC Youth Choir (conducted by Allison Girvan) in a celebration of song at Fraserview Mennonite Church.
Click one of the registration options below to get started. We accept credit cards!
Adult Choir (non-auditioned, 18+) REGISTER NOW!
Children's Choir (non-auditioned; mixed unchanged voices)
BC Youth Choir (auditioned, ages 16 to 25)
Please contact our registrar, Jennifer Dufour, with any questions you have about Chorfest 2018.
Tel: 604-240-0383
Email: chorfest@bcchoralfed.com
For more info: Accommodations | Sponsorship | Advertising