THANK YOU for an amazing experience at Chorfest 2017!
May 25, 2017
Wasn't that a fantastic choral celebration! BCCF's Chorfest 2017 goes down in the history books for a number of fabulous reasons: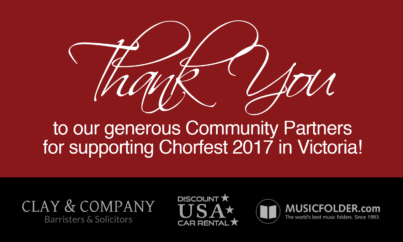 • A Gala concert with close to 400 singers AND the Victoria Symphony on the Farquhar Auditorium stage;
• A record number of singers in the Adult Chorfest Choir, led by Jon Washburn, founding conductor of BCCF Chorfest;
• The introduction of a completely new non-auditioned Young Adult Choir, involving 65 singers from across the province under the spirited leadership of Scott Leithead;
• Dynamic concert presentations of the BC Youth Choir with Kathleen Allan and the Chorfest Children's Choir with Madeleine Humer
• The creation of a new Community Partner program, embraced by three strong supporters of the arts: Clay & Company Barristers & Solicitors; Discount USA Car Rental; and MusicFolder.com;
• The participation of the Victoria Symphony, made possible through a grant application by host choir The Linden Singers of Victoria, with monies from the Community Fund for Canada's 150th, a collaboration between the Victoria Foundation, the Government of Canada, and extraordinary leaders from coast to coast to coast;
• Rehearsals across Victoria in FOUR different venues, putting arts money back into the community
Heartfelt thanks to all of our community volunteers for their enormous contributions of time and labour, and particular thanks once again to our corporate Community Partners: Clay & Company, Discount USA Car Rental and MusicFolder.com for their generous donations. The support of the entire community made this event one for the record books  — BCCF Chorfest 2017 United in Song Celebrating Canada's 150th!
Click here to view photos from the 2017 event.
Click here to learn more about the 2018 event.