Join us for Seniors' Chorfest 2017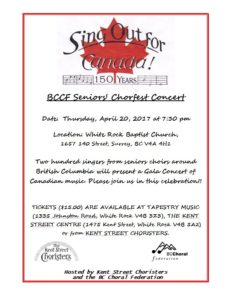 Singing is a lifelong joy! Passionate choristers unite for this festival every two years, which offers a weekend of favourite tunes, choral activities, and time to socialize. Please join us April 18-20, 2017 for two days of workshops, followed by a gala concert – a celebration of Canada's 150th birthday and Canadian music!
Our clinician will be Paul Cummings, an internationally-renowned BC educator and choral director. This year's venues are located in White Rock/South Surrey. A gala concert will take place on Thursday, April 20 at 7:30pm at White Rock Baptist Church (1657 140 Street, Surrey, BC. V4A 4H1). Tickets ($15) are available at Tapestry Music White Rock (1335 Johnston Road, White Rock, V4B 3Z3), the Kent Street Activity Centre (1475 Kent Street, White Rock, V4B 5A2) or from Kent Street Choristers.
Here are some helpful links for more information:
FOR PARTICPANTS:
Schedule
Repertoire
Registration
FOR AUDIENCE MEMBERS: 
Tickets
RSVP on Facebook!
Seniors' Chorfest 2017 is co-sponsored by the BC Choral Federation and the Kent Street Choristers.
Further information, contact the Registrar, Ed Harrington, at seniorschorfest2017@gmail.com.