BCCF announces 'Light Up the Choirs' fundraiser for wildfire relief
August 18, 2017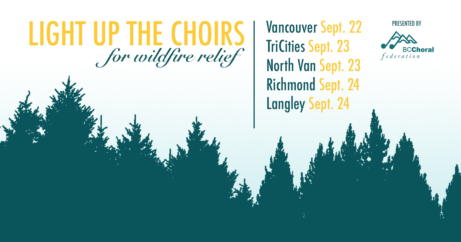 Benefit concerts scheduled for September 22-24 around Metro Vancouver
Here in the Lower Mainland, we've had to deal with no worse than a couple of weeks of smoky atmosphere, and some spectacular sunrises and sunsets.  In other areas of the province, communities have been burnt out, homes and livestock destroyed, businesses have ceased to function, and people are working together to care for each other in refugee situations.
Some among those people are also members of choirs. It's hard for them to know when their choir lives (let alone everyday life) will be approaching "normal" in any way.  So we will sing for them; we will come together in our own choir communities in MetroVancouver, and offer our music and our encouragement, as well as encouraging singers and audiences alike to donate through BCCF to the Red Cross.

There are five concert venues in the weekend of 22-24 September:
• Vancouver – Fri 22 Sept, 7pm @ Magee Secondary
• TriCities – Sat 23 Sept, 3pm @ Alderson Elementary
• North Van – Sat 23 Sept, 7pm @ Highlands United
• Richmond – Sun 24 Sept, 3pm @ Fraserview MB
• Langley – Sun 24 Sept, 7pm @ Willoughby CR
For choirs who wish to be involved, click here for an application form and further instructions.
Click here to download a poster for the concert in your area!
Please feel free to contact our Project Manager if you wish to be involved in some other capacity.