The BCCF Chorfest non-auditioned Young Adult Choir returns this May!
After a very successful debut in Victoria last year, the BCCF Chorfest non-auditioned Young Adult Choir will make its return May 11-13 in Richmond, BC! This year's choir is directed by Paul Cummings and will set the tone for the next generation of singers that may choose choral singing as a lifelong joy. This group will enjoy a short intensive weekend experience that includes great music, fun activities and an awesome shared objective.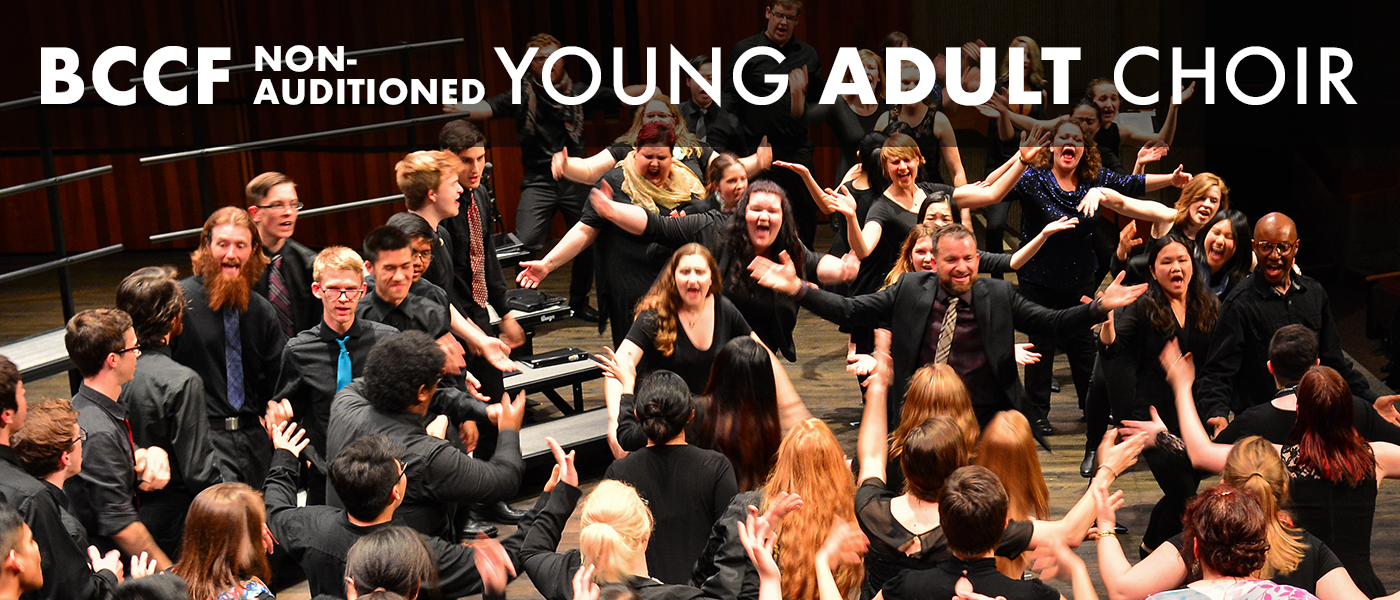 ✔️– You are a young adult age 16 to 29 and you LOVE to sing.
✔️– You are seeking a fun experience with an amazing conductor.
✔️– You have participated in a school or community choir at some time.
✔️– You read music or are willing to prepare in advance with rehearsal files.
---
Registration – $90 INCLUDES:
All rehearsals

Printed Sheet Music

Rehearsal refreshments

Friday Dinner and Saturday Lunch

Saturday evening social adventure in Steveston (meal cost not included)

Rehearsal CD/online sound file access

Concert performance
---
>> REGISTER NOW <<
Use our quick and easy registration form to pay securely online using credit card or PayPal.
Questions for a live person?
Phone/txt Christine Chepyha 250-882-5668
Email: singyourjoy@gmail.com
Follow the excitement on Facebook!
---
Accommodations
The Sheraton Vancouver Airport Hotel is offering discount rates for Chorfest participants until April 11. Click here to learn more. Please note: all accommodations and supervision are the individual's responsibility. 
---
Your Clinician: Paul Cummings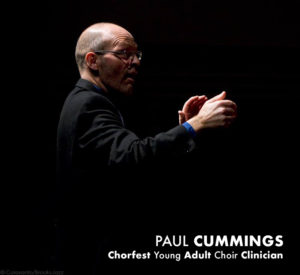 Trombonist, vocalist and choral director, Paul Cummings, recipient of the BC Music Educators' 1995 Outstanding Music Educator Award, has degrees in Music and Education from the University of British Columbia. In 1999 Paul received a Masters in Choral Conducting from Western Washington University, Bellingham under the mentorship of Dr. Leslie Guelker-Cone.
His premiere vocal ensembles have enjoyed successful showcase performances at Arnhem 2001 in Holland, Europa Cantat Festival 1994 (Denmark), 1997 (Austria), 2003 (Spain), 2005 (Belgium), 2007 (Slovenia), 2010 (Spain), 2012 (Italy), France (2014). His choir enjoyed the America Cantat 2016 in the Bahamas, and on three occasions Paul has toured with his ensembles to Cuba.
In 1996 Paul resurrected the BC Vocal Jazz Festival and acted as Artistic Director for three years. Mr. Cummings has worked as a clinician and adjudicator in dozens of festivals and music camps throughout the Pacific Northwest, including Seniors' Chorfest 2017 in White Rock, BC. Paul was the Artistic Director and Head of Jury at the International Choral Kathaumixw Festival from 2012-2016. He currently teaches at music at Brooks Secondary School and is an instructor at Vancouver Island University. Paul's latest project, Townsite Jazz Festival, marks a return to his jazz roots and will debut April 5-7 in Powell River's historic district.
>> REGISTER NOW <<
---
Your Repertoire
Proposed and subject to change.
Note: sheet music and rehearsal files will be provided to participants one month before Chorfest 2018.
Siuil a Ruin
Arr. Michael McGlynn
Rejuvenation
Tobin Stokes
Kia Hora Te Marino
Christopher Tin,  Maori proverbs adapted by Jerome Kavanagh
Son de la Loma
Miguel Matamoros Arr. Paul Cummings
…and with the Massed Chorfest Choirs:
Lil'Wat Welcome
Traditional Arr. R. Wallace
Hlonolofatsa
Traditional / University of Pretoria
---
Your Schedule
Proposed and subject to change.
Friday, May 11th
5pm – 6pm On-site Registration
5:30pm – 6:45pm Group Dinner/Get to know your sections
7pm – 9:30pm Rehearsal
Saturday, May 12th
9am – 5pm Rehearsal (includes warm-ups, breaks, lunch)
5:30pm – 9pm Social night in Steveston (meal costs are the responsibility of each individual singer)
Sunday, May 13th
9am – 11am Rehearsal
11am – 12pm Lunch break (light food provided)
12pm – 2:30pm Massed Choir Rehearsal
3:30pm – 5pm Chorfest 2018 Performance
>> REGISTER NOW <<
---
The 2018 Non-Auditioned Young Adult Chorfest Choir is proudly supported by members of the BC Choral Federation's Willan Council. These individuals have been honoured for their extraordinary service to the BCCF, and their commitment to BC's choral community continues today as they support and encourage the next generation of choralists to discover the joys of singing together.
---
Enjoy these memories from BCCF Chorfest 2017 in Victoria, the inaugural year of the non-auditioned Young Adult Choir!