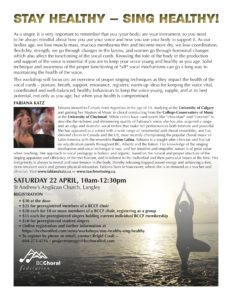 STAY HEALTHY – SING HEALTHY, with guest clinician Fabiana Katz.
As a singer, it is very important to remember that you (your body) are your instrument, so you need to be always mindful about how you use your voice and how you use your body to support it.
As our bodies age, we lose muscle mass, mucous membranes thin and become more dry, we lose coordination, flexibility, strength, we go through changes in the larynx, and women go through hormonal changes which also affect the functioning of the vocal cords.
Knowing the role of the body in the production and support of the voice is essential if you are to keep your voice young and healthy as you age. Solid technique and awareness of the proper functioning of *all* vocal mechanisms can go a long way to maintaining the health of the voice.
This workshop will focus on:
an overview of proper singing techniques as they impact the health of the vocal cords – posture, breath, support, resonance, registers;

warm-up ideas for keeping the voice vital, coordinated and well-balanced;

healthy behaviours to keep the voice young, supple, and at its best potential, not only as you age, but when your health is compromised.
DATE/TIME
SATURDAY 22 APRIL, 10am-12:30pm
St Andrew's Anglican Church, Langley
REGISTRATION
$30 at the door
$25 for preregistered members of a BCCF choir
$20 each for 10 or more members of a BCCF choir, registering as a group
$15 each for preregistered singers holding current individual BCCF membership
$10 for preregistered student singers
Fill out the form below to pre-register online for Early Bird savings! (Pay at the door.)
A
printable
group registration form
 is available here
.
To register by phone or email, contact Brigid Coult – 604-272-4216 / projectmanager@bcchoralfed.com
BIO
Immersed in music in her native Argentina, Andrea Fabiana moved to Canada ate the age of 14, earned her B.Mus. in Music at the University of Calgary and her Masters of Music in choral conducting from the College-Conservatory of Music at the University of Cincinnati.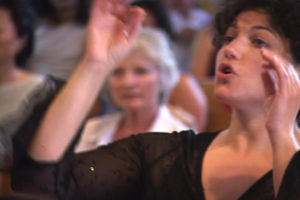 While critics have used words like "chocolate" and "caramel" to describe the richness and shimmering quality of Fabiana's voice, she has also acquired a range and an edgy and dramatic vocal timbre that make her performances both intimate and powerful. She has appeared as a soloist with the Regina Symphony Orchestra, the Berkshire Choral Festival, Symphony Nova Scotia, the National Arts Centre Orchestra, the Pacific Baroque Orchestra, the Kitchener-Waterloo Chamber Orchestra, the Prince George Symphony Orchestra, and the CBC Radio Orchestra, to name a few.
Fabiana has also been featured guest soloist with Erato Ensemble, Vancouver's Sonic Boom Festival, the Monteverdi Symposium, a Company of Instruments Baroque Orchestra, and the Vancouver Latin Music Festival.
Fabiana has directed choirs in Canada and the US, most recently championing the popular choral music of Latin America with the ensemble Fusion Latina. Fabiana is a sought-after clinician and has sat on adjudication panels throughout BC, Alberta and the Yukon.
Fabiana's knowledge of the singing mechanism and vocal technique is vast, and her intuitive and empathic nature is of great value when teaching. Her approach to vocal pedagogy is holistic and organic, based on the natural and proper structure of the singing apparatus and efficiency of the mechanism, and is tailored to the individual and their particular issues at the time. Her first priority is always to reveal and ease tension in the body, thereby releasing trapped sound energy and ​achieving a free, more resonant voice and greater physical relaxation.
Fabiana lives in Vancouver, where she is in demand as a teacher and clinician. Visit www.fabianakatz.ca or www.teachmetosing.ca.