BCCF Raffle 2018 – a BIG perk of your BCCF membership!
November 10, 2017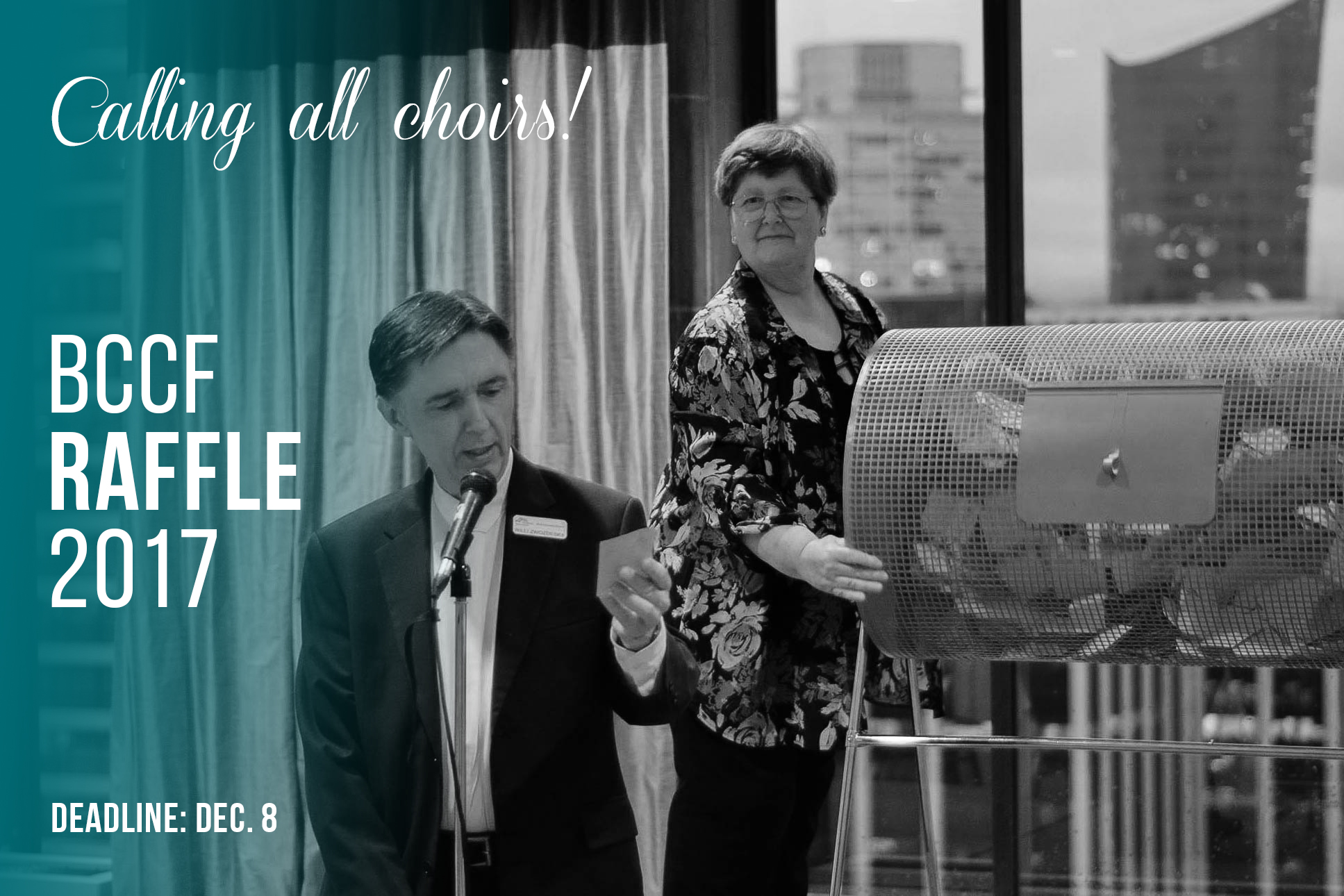 Take part in our annual raffle fundraiser!
The BCCF Raffle is an annual draw held as a joint fundraiser for our member choirs and the BCCF, and the kickback to your organization is too good to ignore!
Here's how it works: Tickets are sold in books of 10 – $2 per ticket – and you keep 60 percent of the proceeds. (For every 50 books of tickets sold, your ensemble would receive $600 to spend. Think of all the fees that could cover, music that could buy and equipment that could repair!) With the 80¢ the BCCF retains from each ticket, we are able to cover the prizes and expenses and administer the raffle on your behalf (your choir avoids all the BC Gaming paperwork!)
We often talk about the perks of BCCF membership, and this is one of the best ones we've got to offer you. Thirty choirs from around the province took part in last year's raffle, which featured 13 prizes ranging from $100 to $3,000. We will go ahead with the project again this year, as long as we have a minimum of 20 choirs. And no matter how many choirs participate, the pot of gold stays strictly in proportion to the number of tickets printed and the odds will always be attractive!
But wait, there's more!
For the first time since our raffle began in 1988, we've eliminated our policy for minimum orders. That means that this year you can purchase as many or as few books as you think you'll be able to offload during the six-week sales period (early March to late April.) Just make sure that your BCCF membership is up to date so that you can take advantage of this amazing fundraising opportunity. Check our website, or email projectmanager@bcchoralfed.com to inquire.
Three documents are linked below, which will help you get started:
Just imagine what you could do with your earnings!

BCCF Raffle – at a glance:

What
• A simple yet effective fundraising opportunity for your choir
• BCCF Raffle 2018: $2 individual tickets for an opportunity to win cash prizes from $100 to $1,000
• The more tickets sold, the more (and bigger!) cash prizes available
Who
• For BCCF Member choirs ONLY – a benefit of membership!
When
• Commitment: by December 8
• Raffle sales:  Early March to late April 2018
• Draw date: May 12, 2018
• Prizes awarded: immediately after
• Funds received: between June and September 2018
Where
• You (your choir members, your board members, parents and/or supporters) sell your raffle tickets in your town – to your audiences, friends, families, singers, supporters
Why
• BCCF administers and manages this Raffle for you (your choir avoids all the BC Gaming paperwork!)
• The collective power of many small groups working together allows us all to win!
• BCCF helping our member choirs raise funds for: music purchases; equipment purchases; professional fees
• Funding individual choirs AND programs/services offered by the BCCF – we all win together!
How
• Ensure that your choir's BCCF membership is up-to-date
• Appoint a single raffle administrator from within your organization
• Determine how many booklets your choir could sell (10 tickets per booklet; if your choir sells 50 booklets, your return is $600)
• Complete the attached contract and return to the BCCF by December 8
• Early March to late April 2018 – sell your tickets
• April 20, 2018 – all stubs, unsold tickets, monies returned to the BCCF
• May 12, 2018 – raffle draw date
• Between June and September 2018 – choirs receive their funds from the raffle
• See the letter, terms and contract above for complete details!